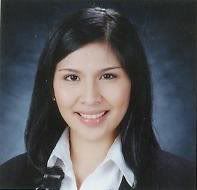 DR. MARIA CRISTINA R. INSERTO, DMD
She is a graduate of Centro Escolar University, College of Dentistry. After graudating she attended seminars and several courses thereafter.
She completed a course in Periodontics with the Philippine Society of Periodontology last July 2008. In 2007, she completed her Preceptorship in Orthodontics and Craniomandibular Disorders with Dr. Dominador Dacanay Jr., at the Eastern Pacific Orthodontics Graduate Society. In 2006, she completed a comprehensive TMJ course on Diagnosis, Treatment and Management of the Temporo-mandibular Joint and its Disorders. Earlier that year, she completed the training course on Radiation Safety Seminar for Radiation Safety Officer of Dental X-ray Facilities at the Philippine Institute of Dental Advancement.
She is a member of the Philippine Dental Association, Quezon City Chapter; Contemporary Orthodontics Research and Education; the International Association for Orthodontics and Philippine Society of Periodontology.
With dreams of becoming a dentist at a very young age, her passion to deliver utmost care and attention to patients has been a committment that she has devoted most of her life to.